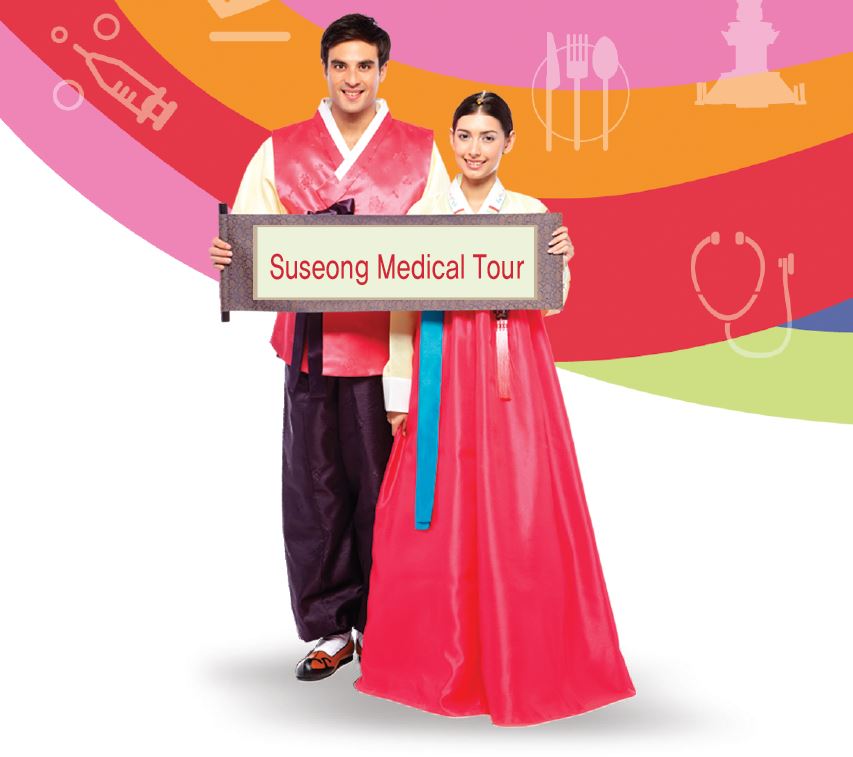 Suseong Medical Tour
Have you ever heard about Suseong Medical Tour?
This is really great chance to travel and check your health at once.
There are two excellent events for foreigners.
First thing I want to talk about is a Chinese students' parent-invited 'Hyo' Medical Tour.
Any Chinese students' parents and families are feeling free to join (Chinese student who are going to 4-year universities or graduate schools in Daegu)
They will provide you with Travel in Daegu and Medical Checkup.
▶ Cost : ₩400,000
▶ Schedule
· Day 1 : Meet – Welcoming ceremony (meeting with students, Medical tour briefing session) – Hotel
· Day 2 : Medical health screenings – Korean traditional tea Manner experience – Wine tunnel – Hotel
· Day 3 : Busan tour – Daegu Duty Free shop – Hotel
· Day 4 : Donghwasa Temple – Daegu Gun shooting range – Free

| | | |
| --- | --- | --- |
| Contact | Call No. | E-mail |
| Suseong-gu Health community Center | 053-666-2792, 2794 | sundan0309@naver.com |
| Samsung Plus Travel | | eplus8888@naver.com |
Also, for all foreigners in Korea, they offer you great chance to take a rest and to escape from daily stress through medical health screening and Korean traditional cultural experiences.
To anyone who wants to know about more details
▶ Cost: ₩250,000
▶ Schedule:
· Day 1 : Health screenings (Dermatology clinic, Korean oriental medicine, Eye clinic, Dental clinic, Internal medicine, etc.) – Lunch (Korean food, food with herbal ingredients) – Korean traditional tea manner experience – Donghwasa Temple stay (Dinner, Lodge, Breakfast)
· Day 2 : Visit one place in addition to Daegu Museum – Free
※ Tour program is available when 6 or more people are participating, tour program can be changed depends on schedule
| | | |
| --- | --- | --- |
| Contact | Call No. | E-mail |
| Suseong-gu Health community Center | | |
| YJ Medical Tour | | |
| Samsung Plus Travel | | |
Don't hesitate! Suseong-gu Health community Center and Trustworthy hospital work together to help you.
I wish you enjoy excellent Suseong Medical tour with medical staffs and a cutting-edge medical tech.
Suseong Medical Tour for
hospital information and temple stay
Today, I will introduce you Suseong Medical Tour.
With reasonable cost based on trust and responsibility, Medical tour Hub city Daegu provides you unforgettable impressive memory. You don't need to be worry about language or transportation problems. They guarantee you excellent medical service with free transportation and interpretation services.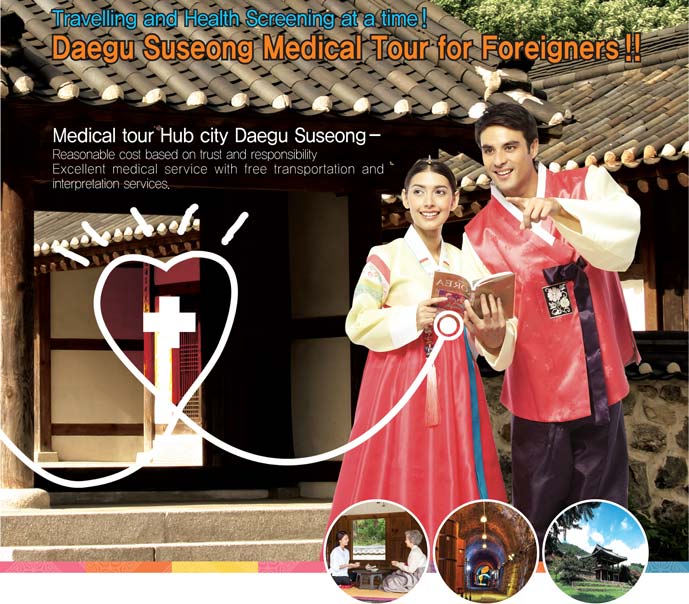 More easily you can check your health at once. Most of the medical treatment like Health check-up, ophthalmology, Dental clinics, Dermatology, plastic surgery, Orthopedics, specialty in Burn injuries, Obstetrics & Gynecology can be handled quickly at one place. You can meet this content (visiting hospitals) in the '1 Day Program'.

There is one more program. 1 Night 2 Days program; 'Templestay' at Donghwasa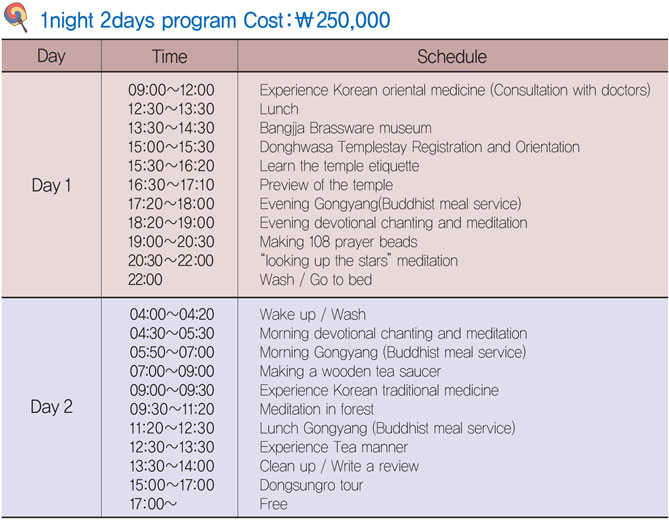 Schedule and the cost may be changed depends on situation.
Please don't hesitate to get this awesome opportunity. Suseong medical tour will indicate you to go head for better and meaningful life.
For more information, pdf file1 / file2 (official poster) are available.
Contact information : YJ Medicaltour 053-262-0800 / Suseong Community Health Center 053-666-5200
The medical city, Suseong-gu, Daegu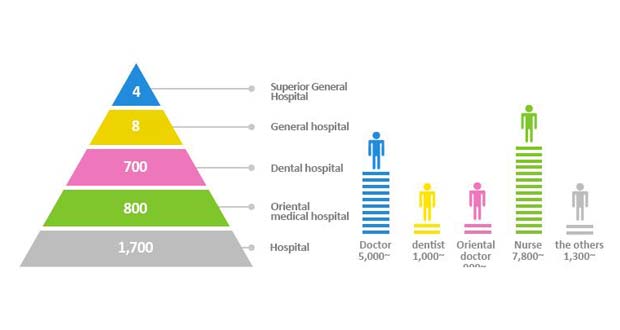 Daegu, the high quality medical treatment with an information infrastructure including 350-year-old Chinese medical treatments and 110-year-old health care. Suseong-gu boasted to have among the best medical care and treatment in Korea.
Please experience the excellent health the economic cost of treatment and the tours of experiencing Korean culture here in suseong-gu. As the heart of Daegu, It is the center of economy, culture, business, transportation and education.
It is well known for being a hospital and clinic area with the highest quality care.
Suseong-gu has the best health care infrastructure in Daegu.
Suseong-gu has over 700 Medical institutions including 35 Hospitals, 187 Oriental medical clinics, 155 Dental clinics and it is 21.2% of 3,300 medical institutions in Daegu.
Particularly Beomeo Junction area named suseong manhattan is the center of medical, financial and service industry. There are professional medical institutions; 29.3% of total medical organizations in suseong-gu.
Also suseong-gu has top-rated hotels like Hotel Interbulgo, Grand hotel, Deulangil food town that consists of 123 restaurants and shopping center like Duty-free shop of Daegu Grand hotel, Color square in Daegu stadium.
You can meet a lot of medical services including
Medical examination, Plastic surgery, Medical skin care, Dental bleaching, Dental implant
Care of obstetrics (delivery, recuperating, laparoscopy, sterilization)
Arthroendoscopy and surgery, stem cell procedure, Removing goiters with laser
Headaches& dizziness clinic, Tinnitus & Deafness clinic, Davinci LASIK, LACEK, Cataract surgery
Oreiental and Western medical examination, Oriental skin care
Suseong-gu also is ready to help your medical tourism. 'Suseong Medical tourism One-stop service' provides everything of medical tourism at Suseong-gu, Daegu.
Contact information : +82-53-666-5200