Hyeonpung Baengnyeon Dokkaebi Market
Introduction of a 100-year-old Traditional Korean Market
A traditional five-day market in Korea was called 'jangsi (場市)' in Korean during the Joseon Dynasty, which referred to a place where commodities were traded among ordinary citizens, including farmers, handicraftsmen and fishermen, every five days.
A 'jangsi' was generally held in a town once every five days. Goods such as agricultural products, handicrafts, fishery products and herbal medicine, were supplied by locals and peddler merchants called 'bobusang,' who moved from market to market with their merchandise strapped onto their backs.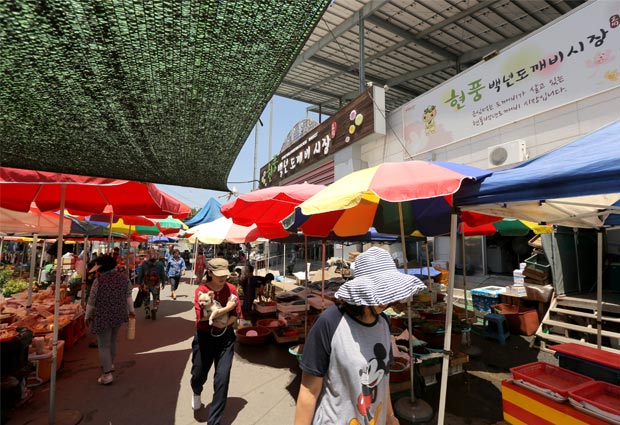 Hyeonpung Baengnyeon Dokkaebi Market was designated as a 'cultural tourism type market' by Small and Medium Business Administration and Agency for Traditional Market Administration in 2012. The slogans of the market include 'Happy Dokkaebi Village,' 'Happy Dokkaebi Market,' and 'Exciting Dokkaebis.' This market opened its doors in March 1918, almost 100 years ago.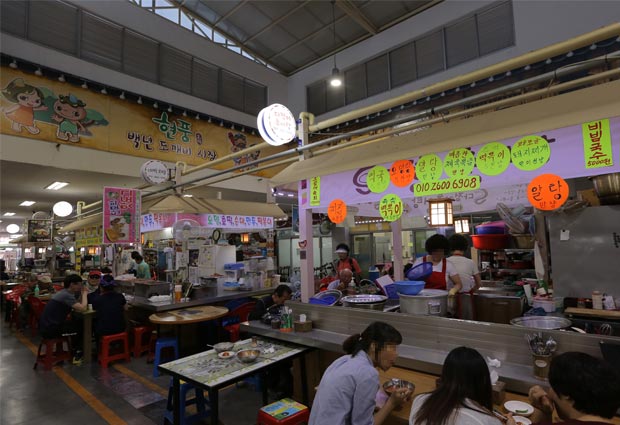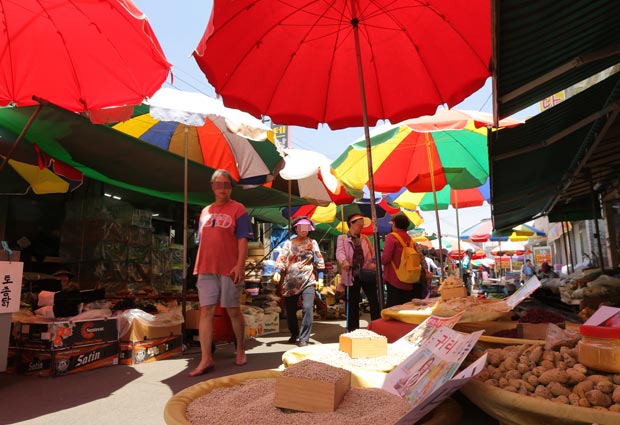 Presently, the five-day market is composed of 51 stores and 46 stalls that sell a whole range of products. The market is also famous for food. It provides lots to see, too. Equipped with plenty of parking space and convenience facilities, the market is loved for its mascot couple called 'Hyeoni & Pungi' that always welcomes market visitors with open arms.
The market that is well known for its 'Hyeonpung Grandma Beef Bone Soup' is open every five days starting on the fifth day of the month.
Towards the entrance to the market, there is a gakseori (literally a singing beggar) in Pierrot costume with head bands of red, green and yellow colors. He dances around singing some very funny songs. Excited, spectators too move their shoulders. Soon a crowd gathers around him. He keeps on amusing them. People get happy and feel that they are neighbors again like they were in the countryside some time ago.
I bought Mugwort rice cake that a grandma made at home. I had a bite. It was really comfort food and it made me nostalgic about days gone-by.
Above all else, once in the market, I had to try 'sogure rice soup,' the market's pride. 'Sogure' refers to beef cartilage which Koreans boil and eat in soup, noodle or as an independent dish.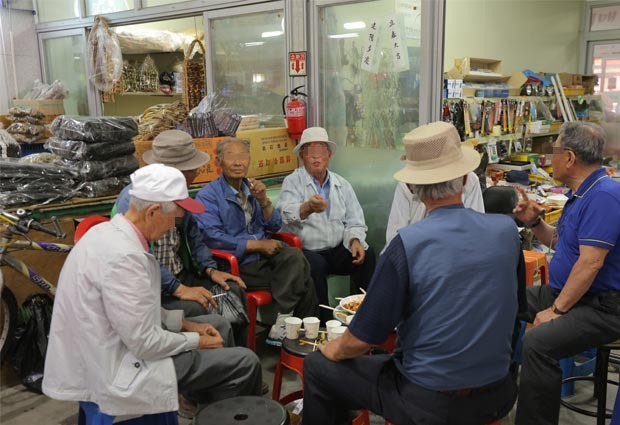 People gather in a tiny diner and enjoy their lunch with some Korean rice wine. The place soon got pleasantly noisy, reminding me of a typical five-day market in the countryside.
I found a group of people huddling around something. As soon as I stuck my head out to see what was going on, I heard the warning, "Here comes 'the popping sound'" and saw smoke coming out of a Korean style popcorn machine. I recalled a traditional Korean market that I went to with my mother when I was little.
Hyeonpung Baengnyeon Dokkaebi Market is a traditional market that enables people of all ages to come and relieve their concerns and worries. Here people end up filling their shopping baskets with their neighbors' generosity and become happy with big smiles on their faces.
The sunset has already come down on the waters of Hyeonpung Creek just in front of the market, adding to the attraction of the traditional five-day market.